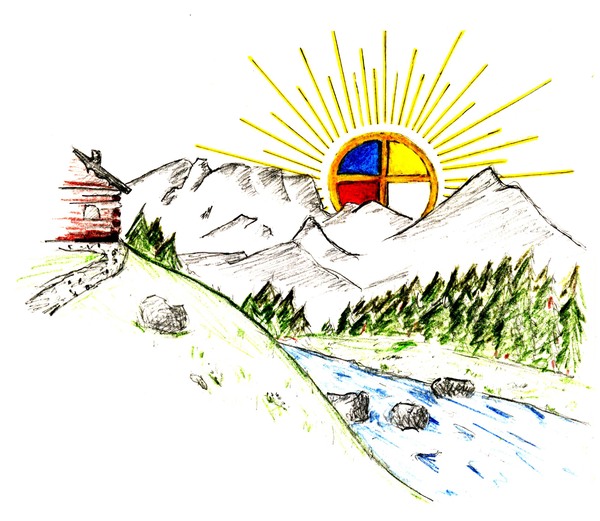 Sunday 6 Aug. 2023 until Saturday 12 Aug. 2023
Spital/Pyhrn (Upper Austria)
Motto: "Live Mazdaznan in the new time! In peace - with friends - in happiness".
"Let's meet in the mountains" in the heart of Austria, in this wonderful landscape, to learn and live the wonderful Mazdaznan way of life together - whether you have known Mazdaznan for a long time or want to discover it anew!
Here, in the heart of Austria, among like-minded Mazdaznan friends from all over the world, you will spend a wonderful, harmonious and eventful week. Besides a varied Mazdaznan programs with breathing, glandular and harmony exercises, interesting lectures, many practical applications, two hikes in the beautiful mountain landscape are also planned.
In order to make this week unforgettable for our children and young people, there will be child care and a youth programme.
Children and youths (without own income) will receive a subsidy of 100€ from the Mazdaznan Foundation afterwards.
The hotel "Friends of Nature" is located in the small town of Spital am Pyhrn in the middle of greenery, surrounded by mountains. http://www.naturfreundehotel.at/
The small town of Spital am Pyhrn is about 1.5 hours from Salzburg and the German border and is easy to reach by car and train. The Linz airport Hörsching is also only 1 h away.
Spital am Pyhrn offers many recreational opportunities such as hiking, cycling, climbing and swimming in the Gleinkersee lake 10 km away or in the indoor swimming pool. The hotel itself has a lovingly designed wellness area and invites the whole family to relax. A café/restaurant with outdoor seating additionally offers regional specialities.
The meeting starts on Sunday 6. 8. 2023 at 18. 00 with dinner. Departure is on Saturday 12. 8. 2023 after lunch.
The cost per person consists of the price for accommodation and meals (to be paid to the hotel) and an organisation fee (to be paid to Mazdaznan Publishing House). Children are exempt from the organisation fee.
6 nights, 2 vegetarian meals daily, programme, walks and excursion; all rooms with shower and toilet.
Costs:
In a single room

In a double room

Children under 6 years

Children 6 to 9 years

Children 10 to 15 years

In a 4-bed room with others

516,- €

444,- €

frei

228,- €

270,- €

384,- €
The costs for the room are to be paid at the hotel on site. In addition, the hotel has to pay 2,20 € /night tourism contribution per person; plus 2€/bill.
If the consumer price index rises above 2%, the hotel reserves the right to adjust prices at short notice to the extent of the difference in the index increase. We will keep you updated on this and you will be informed in good time before the start of the meeting.
Organisation fee (for adults only):
The organisation fee to cover expenses is:
For registration until 28. February: 25 € (per adult)
Registration 1. March to 30. June 2023: 50 € (per adult)
Please transfer the organisation fee to:
To: Verlag Mazdaznan GmbH (Adress if needed be the bank: Zur Ziegelhuette 13, D-76228 Karlsruhe)
IBAN: DE59 4306 0967 7010 3435 01
BIC: GENODEM1GLS, GLS Bank (GLS Bank Bochum, Christstr. 9, D-44789 Bochum)
Subject: Mazdaznan Summer Meeting 2023
Hotel costs will be paid on site at the hotel - please do not transfer!
Registration deadline: 30 June 2023
The organisation fee is due after registration by bank transfer. You will receive an invoice by mail. In case of cancellation this amount cannot be refunded. If the meeting is cancelled by the organisers, this amount will be fully refunded.
For better planning we ask for early registration!
Do NOT register at the hotel, but only via this form.
If you have any problems with the registration, please contact This email address is being protected from spambots. You need JavaScript enabled to view it.
or +36702069193 (I can also be reached via Signal, Telegram, WhatsApp, ...).
Some fotos...
The old program from 2022...
Translated with www.DeepL.com/Translator (free version)